Entry requirements
Click the button to read our faculty brochure or read more about the course below:
Six GCSEs 9-4 (or A*-C)
Two from English, Maths OR Science
Two at least grade 6
Course specific requirements: GCSE grade 9-4 in any Art-based subject OR portfolio of work if no GCSE Art OR BTEC First at D/M with a portfolio of work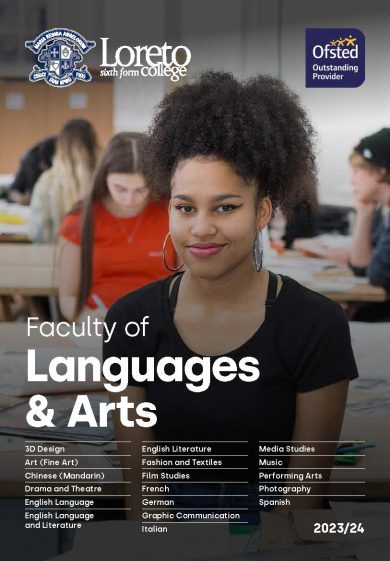 What is Graphic Communication?
A Level Graphic Communication projects are devised to help students understand the fundamental process of design and gain a solid knowledge of all phases of the graphic communication processes, starting with research and thumbnails through to developing and refining designs to exciting and experimental outcomes. You will be encouraged to consider the design process and think about the cultural, historical and technological influences that have shaped design and how this impacts your audience and influences your design.


Components
COMPONENT 1: PERSONAL INVESTIGATION. (60% OF A LEVEL)
Learners should produce two elements:
A portfolio of practical work showing their personal response to either a starting point, brief, scenario or stimulus, devised and provided by the learner or centre.
A related study: an extended response of a guided minimum of 1000 words.
COMPONENT 2: EXTERNALLY SET TASK (40% OF A LEVEL)
The exam paper will be issued on 1st February and will provide learners with a number of themes, each with a range of written and visual starting points, briefs and stimuli. A response should be based on one of these options.
Skills
You will explore a range of materials and techniques including digital manipulation on the Adobe package: Photoshop, Illustrator and InDesign, photography, typography, illustration, layout, printing and packaging. You will develop your critical thinking when looking at the works of artist and illustrators as well as develop your skills of analysis in written form.
Careers/Destinations
This subject is for students who are interested in careers in graphics, graphic communication, typography, web design, app design, animation and illustration and other related subjects such as advertising, marketing, publishing and editorial careers as well as engineering, architecture and product design.
Art Exhibition Highlights 2022
Art Exhibition Highlights 2021