Priority of applications:
Loreto College is a Roman Catholic College established in 1977 to serve our Partner Catholic Schools of Manchester and the surrounding districts.
The following priority will be given to applications:
Pupils from Partnership Roman Catholic High Schools
Catholic pupils from Non-Partnership Roman Catholic High Schools
Catholic pupils from other schools
Other pupils
Pupils from any of the above categories who have not met the applications deadline.
Looked after children and previously looked after children have the highest priority in each category.
Loreto College is heavily oversubscribed and we have many more applications each year than we can offer places. We strongly advise you to complete your application form well before the deadline date of January 13th 2023, and hand it to your school so they can complete it with a reference, before posting it to us.
Loreto's partnership high schools are:
All Hallows
Blessed Thomas Holford
Loreto Chorlton
Our Lady's
St Ambrose Barlow
St Antony's
St Damian's
St John Vianney
St Matthew's
St Monica's
St Patrick's
St Paul's
St Peter's
St Philip Howard
St Thomas More
The Barlow
College entry requirements
3/4 Advanced Level programme:
For students who are anticipated to study an Advanced Level programme of 3/4 subjects or a hybrid Advanced Level and BTEC Level 3 Diploma course the requirements are:
6 GCSEs between 9 to 4 (A*-C) for including 2 of English, Maths or Science.
2 should be at least grade 6 (B)
In addition there are some individual course requirements in some subjects. Please see the Courses section of the website for further details.
BTEC
Level 3 extended diploma
Minimum of 5 GCSEs: 9 to 4 (A*-C) including either English or Maths.
OR
Level 2 Vocational Programme at Merit or above PLUS 3 GCSEs 9 to 4 including either English or Maths.
Level 2 diploma
Minimum of four GCSEs at Grade 3 (D) or better.
BTEC Level 1
Minimum of Entry Level 2/3 qualifications
Guided programme
Sometimes a Guided Programme is appropriate when it is not possible for a student to satisfy the above requirements – for example they may only be taking 5 GCSEs at school, but yet be forecast to get very good grades in all of them. A full A-level programme could be the most appropriate in this case or a reduced programme of A Levels and another course (a GCSE, a BTEC Level 3 Subsidiary Diploma) may be right in other cases. Each case will be dealt with individually by staff so as to ensure the best course for the student.
Foundation level
Learners are required to fulfil the following criteria before enrolling on the Pathways to Independence Course:
To have an Education, Health and Care Plan (EHCP).
To be working at pre-Entry Level up to Entry Level 3.
To have an aspiration to become independent.
To be committed to improve travel training skills.
GCSE Maths and English
All students who have not achieved at least a GCSE grade 4 (or at least a grade C ) in Maths and/or English will be required to follow courses in the appropriate subject in order to work towards achieving these minimum grades.
Other entry requirements
When considering your application we take into account several key indicators:
The reference provided by your school which must cover attendance, punctuality, conduct and application.
The pupils suitability for the course being applied for.
The availability of the course which the student has applied for.
The estimated grades provided by your high school and the effort you have shown to achieve these.
Your wider interests and the potential contribution that you might make to the Loreto College community.
Your commitment to study at Loreto College.
Your appreciation of and commitment to Loreto's distinctive ethos.
The quality of your application.
The receipt of the application by the college no later than the application deadline.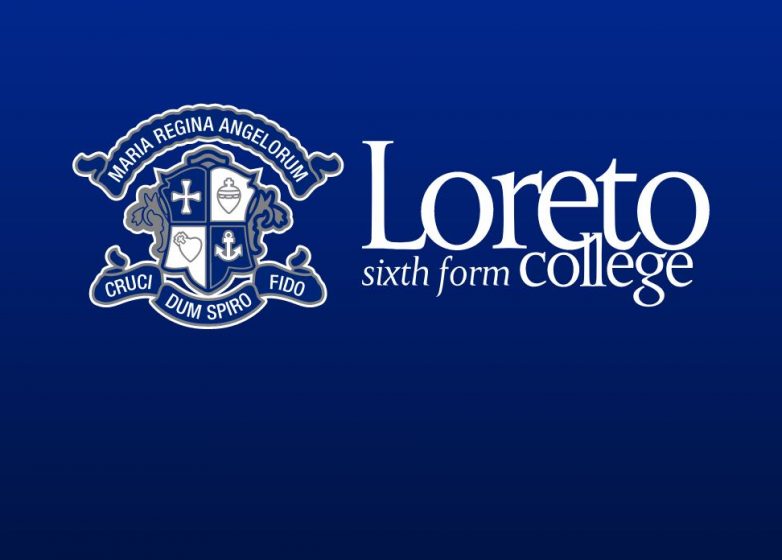 Enquiries about admissions should be made to the Admissions Officer. The Governors are responsible for admissions.
Parents/Guardians of students who have not been allocated a place may request a reconsideration of the decision. Please see our admissions policy for further information.
We reserve the right not to consider incomplete application forms.
Though the particulars in this prospectus were correct when it was printed in August 2021, it should not be assumed that there will be no changes affecting the relevant arrangements or some matter particularised: before the start of or during the college year in question or in relation to subsequent college years, subject to demand for a particular course.
Loreto College has a Child Protection Policy that is regularly reviewed by governors.
Here is a link to our Special Education Needs (SEN) Report.