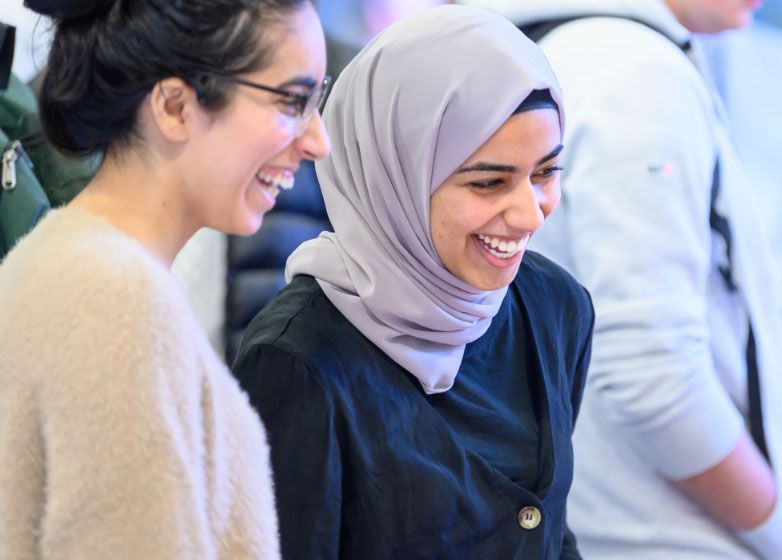 Our aim is to remove all barriers to learning to ensure that every student can achieve the best they can be. To help achieve this goal we put in place our best endeavours to ensure we
Identify any barriers to learning
Assess how we can support
Put in place intervention and support packages
Monitor and review our processes
Student voice is central to our work and we listen carefully to what you have to say. We know we work best when we work collaboratively with you , your parents and where appropriate, external agencies.
Types of Support we can offer include:
Transition
The programme is a way of supporting prospective high needs and vulnerable students to have a smooth and successful transition from school to the college.
Support is offered to students who have an education, health and care plan. A member of the academic support team will attend your review meeting in Year 11 to offer advice about support at Loreto and answer any questions.
On New Students' Days and from your first day at college we offer a meet and greet or discreet support to help you settle in.
We have an annual Parent's conference to allow your parent or carer to be able to find out about the support we offer, meet the academic support team and ask us questions to reassure them about your next steps.
Transition visits give you the opportunity to discuss the support you might need. This includes a tour of the college and a chance to meet the team so that you get to know your way around and some familiar faces. Additional transition visits will allow you to take part in activities and meet other prospective students who, like you, want to join Loreto College.
Future you
Personal Development Programme to support Autistic Young people prepare for adulthood.
The key areas of focus are:
Education
Employment
Training
Our staff are trained to work with students to identify areas of strength for example, technical ability or high levels of specialist interest. We also support students with areas that may need work, for example, friendship groups, making phone calls, travelling independently
Our programme has been designed and developed with the help of Educational Psychologists. Students work either 1:1 or in small groups and use a tailored approach to develop skills in readiness for their next steps, university or work place.
Literacy Intervention
Literacy Support is for those students who have dyslexia or experience difficulties with reading, spelling or poor handwriting.  On your first session, you will complete a questionnaire which identifies any barriers, for example having to re-read a piece of work a few times before you understand it.  You will complete a short spelling test, a typing test and handwriting test so we can assess what support is right for you.  We can provide you with overlays (which help with visual stress), give you access to assistive technology that will help with your homework and revision.  We can refer to examination access testing or for special arrangements. You can learn to touch type or access interventions that will help with your studies.
Mentoring
The mentoring programme offers one-to-one support. These session are very much student led and tailored to the students individual needs. The mentor programme offers holistic range of support including wellbeing and academic intervention including work on transition from secondary school to college. In your second year, mentors will work with students on UCAS applications for university, interview techniques and help with personal statements.
Mentees can access resources to learn organisation skills, which is often a barrier because the transition from GCSE to A Level can be challenging. Mentoring can help you to develop real life skills, which enables you to become an independent young adult. For example, working with you to manage your mental health and specific anxieties, and being in regular contact with your teachers to ensure you feel supported in class.
In class support
Where appropriate, guided by student need, we can offer in class support for students who may need help with note taking, recording, organisation, scaffolding learning and scribing. We encourage all our students, as part of the preparation for adulthood curriculum, to use assistive technology in the classroom but recognise that some students may need 1:1 support.
Assistive technology
Read & Write is assistive technology software accessible by all students. Hearing text read aloud, using natural sounding voices in conjunction with dual highlighting, helps the reader with comprehension and word recognition. Writing skills and attitude towards writing can improve when writing is read aloud.
Bookshare® is an ebook library that makes reading easier. Members can access a huge collection of ebooks and read their way with the most customisable ebooks for people with reading barriers. It includes books for school, career, and reading pleasure, as well as titles in over 34 languages.
Microsoft provides speech-to-text technology on Word to record your notes into text. Saves the document as the date and time and teacher of the lesson.
Learning Apps, we can direct you to the most appropriate apps to download for example to support dyslexia, metacogntion and social and emotional support.
We can offer some students with access to laptops , ipads , voice recorders to assist learning. Students may also want to use their own technology.