Just before the half term break, Loreto College's netball team hosted Aquinas College in their second game of the season, securing their first victory of the year in a closely contested fixture.
Using the same lineup as their first game (with additional players on the bench), Loreto were dominant right from the start of the first quarter, scoring 3 unanswered goals before allowing Aquinas to get a point on the board.  Keira, Rachael and Abi were faultless in attack, executing numerous near-perfect centre passes, straight from the training book! It didn't take long for Aquinas to find their feet, courtesy of the great connection and understanding between their wing attack and goal shooter, managing to pull back level. Aquinas just sneaked ahead at the end of the first quarter, which finished 7-9 to Aquinas.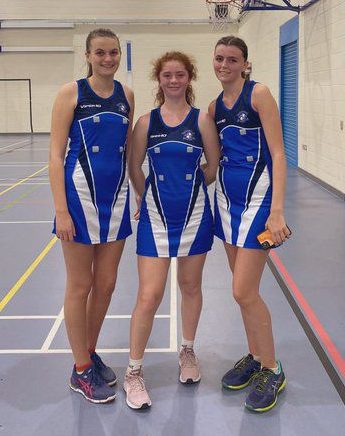 The second quarter saw Loreto having to make changes when Milly retired from the game due to injury. Amber moved to the centre position and Esme to wing defence. These unplanned changes were not to Loreto's detriment, with the team combining well to pull within one goal at the end of the half. Lucy and Laure were again outstanding in at goal defence and goalkeeper, providing their attacking counterparts with ample opportunities. The end of the first half finished 22-23 in Aquinas' favour.
Loreto rang the changes in the third quarter, with Darcy coming on as wing attack and Charlotte moving to the goal attack position, where she proved exceptional. Using her speed and flare, Charlotte really opened up the attack end, connecting well with Darcy to help Loreto get back ahead. However, some unforced errors from Loreto resulted in further changes part way through the quarter, with the attacking maestro, Rachael coming back onto court. Loreto managed to pull ahead in the final few minutes of that quarter, and it finished 37-33 to Loreto.
The final quarter started out just as competitively as the first. The Loreto team were able to push on, pulling ahead in the last half of the quarter, with very player managing to get on court and have a real impact on the game. With some exceptional and clinical netball on display, Loreto secured the win with the  final score of  51-43 to Loreto.
Honour's for this game go to: Amber – opposition's player, Abi – players' player and Lucy – coach's player (as pictured right). Well done!
Loreto squad: Lucy, Laure, Esme, Amber, Milly, Keira, Darcy, Charlotte, Rachael and Abi.
Follow us on Twitter to keep up to date with all things netball! @LoretoNetball