Former Loreto student Jona Efoloko is enjoying success in both the classroom and on the athletics track. Just days after finishing his BA (Hons) degree in Marketing at The University of East London, he received the call from Team GB to join the Men's Olympic 4X100m relay squad for Tokyo 2020.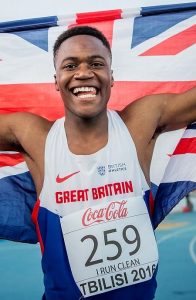 Jona is an impressive athlete. A promising rugby league player, he made the switch to sprinting and has enjoyed great success.
He left Loreto in 2018 after studying A Level Sociology, Business and BTEC Sport and could have found it difficult continuing his studies and training. "It's been quite challenging because you'd have homework due and you'd be too tired to do it straight after training," explains Jona, "I wasn't really stressed or worried about finding the balance. I started early and did the school work little by little. I think it worked!"
Although he travelled to Tokyo (but ultimately was not selected to run) it is still a huge achievement for Jona, who was born in Congo and moved to the UK in 2005. Despite his sporting prowess, Jona remained a dedicated student, saying "from a young age my parents have drilled into me that education is very important if you want to be successful in the future. As I've got older I've understood that more and more – I can really see the importance of education."
We wish Jona well in the future and will continue to cheer him on in his sporting career.