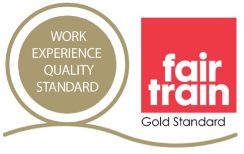 The Work Experience Quality Standard is a national accreditation which provides external quality assurance for high quality work experience and employability programmes.

For the 5th year running The Pathways Employability programme was awarded the Gold Standard for outstanding work placements in 2020
State-of-the-art facilities
Our campus is secure and safe and is shared by learners of all abilities. This inclusive environment means that learners with disabilities and/or learning difficulties can develop confidence and independence through their day-to-day college activities.
Loreto is Manchester's only purpose built sixth form college. Our state-of-the-art facilities are based on a spacious, green and leafy, nine-acre university style campus with mature gardens. There is every opportunity to study and learn; there is also plenty of space for learners to relax and enjoy life at Loreto.
Loreto's 'Outstanding' reputation
Loreto College has been rated 'Outstanding' by Ofsted. It also has the rare distinction of receiving the prestigious "Queen's Anniversary Prize for Further and Higher Education". This award was presented by Her Majesty the Queen in the presence of His Royal Highness, the Duke of Edinburgh, to our previous Principal, Ann Clynch, at Buckingham Palace.
Inclusive Education
The college is committed to fulfilling the requirements of the Department of Education's Special Educational Needs and Disabilities Code of Practice (2104) and works closely with Local Authorities to ensure the needs of young people with Education, Health and Care Plans are met in college. We also work closely with external agencies to meet the needs of young people as appropriate. These include: Speech and Language therapists, Social Workers, Clinical and Educational Psychologists, and Physiotherapists.
Pathways to Independence Transition Programme
Moving on from school to college is a big step for all young people, particularly for those with learning disabilities. That is why the Pathways Department arranges a thorough and individualised transition programme to ensure that this process is as seamless as possible. Our Transition Programme includes:
Meetings with the learner, parents/carers, school staff and external agencies, to establish a close liaison and a partnership approach
School or specialist provider observations
Attending school review meetings and multi-agency meetings
Planning a personalised programme with the learner
Familiarisation days and taster sessions at Loreto College
Specialist support
Open days for parents and learners to attend Loreto College
Initial Needs Assessments to gather full information
The transition programme is arranged and agreed on an individual basis with each school, specialist provider or external organisation. It is our experience that a well-planned transition plays a significant role in learners being able to access Loreto College and the Pathways Programme successfully.
We also support learners to transition out of College upon completion of the Pathways Course on to the next phase of their development.
Mobility
Loreto offers comprehensive provision of mobility equipment and facilities that are available to cater for a wide variety of students' needs.
All buildings have key card operated lifts allowing quick and efficient access to the whole campus on all floors.
Accessible toilets can be found on every floor of each of the college buildings alongside dedicated mobility bathrooms with ceiling tracking hoists and Closimat toilets for students that require personal care.
Rest room for students who want to take a break from their chair during the day
Our experienced mobility team are able to offer individual plans to ensure students are appropriately supported.
All paths around the exterior of the campus are wheelchair friendly with dropped kerbs and our three canteens are equipped with specially designed tables and counters for wheelchair users.
We provide a range of portable equipment; hoists, adjustable desks and wheelchairs, allowing for a greater level of flexibility. With this combination of excellent equipment and experienced staff Loreto College is able to offer the best and most appropriate support to any student with a mobility issue whether temporary or long term.
First aid room
The First Aid Room (FAR) initially provides First Aid support to any student or member of staff who requires it. The aim of the FAR is to:
Highlight any vulnerable students to the correct parties, give advice and refer to counselling or any other external agencies if needed.
Prompt, administer and record medication given to students with specific medical conditions.
Assist any students who may need to sign out due to illness or a medical appointment, we follow a strict sign out procedure, informing parents and all relevant teachers, checking attendance and liaising about this if needed.
Act as a point of contact for any mobility or disability students who may require assistance or personal care.